Home
›
The Bridge
1000+ Gauntlet Rounds of Data
Peachtree Rex
✭✭✭✭✭
Reference Thread:
https://forum.disruptorbeam.com/stt/discussion/6293/gauntlet-round-compilation#latest
Compiled Rounds:
https://docs.google.com/spreadsheets/d/1sYlf7A6M-kaENSsxoHhiUrpNuv71zNRz50Izi-ARB6E/edit#gid=70142621
To start, I plan on continuing this project for the foreseeable future. The iampicard tool makes data collection very easy for a few of the rounds I run per day. If you would like to contribute your rounds, details on how are in the OP of my first post linked above.
I'd also like to express thanks to
@TekmanRO
for his wonderful tool that made this collection possible and Joker41NAM (couldn't get the @ to work?) for being the most consistent external source sending me rounds.
What this Data Isn't
People like to use the word "prove" in here a lot, and I'll be the first to say this collection doesn't (and could never) prove anything beyond a shadow of a doubt. I can compile evidence and it can point to things we should question, but until you can look at code and arrive at root causes, there's no way to actually prove anything.
What this Data Is
This is a collection of results from gauntlet rounds. My intent is to analyze the fairness of crit rates and roll distributions and to see of any of those discrepancies amount to biases in observed win/loss rates.
Organization
Sheets included:
Compiled Rounds: Raw data of the analysis
Analysis Settings: specific settings to setup the analysis. Currently, I only provide a minimum roll span to consider for "percentile" analysis.
General Analysis: Statistics on ALL recorded rounds
"Reward Round" Analysis: Statistics on JUST "Reward Rounds" (rounds where the user expects to get something other than merits/credits)
"Other Round" Analysis: Statistics on rounds where the user will receive merits/credits
Mirror Match Analysis: Data is isolated to just "mirror matches" of the same crew. With only 59 recorded rounds, this data is not very statistically significant.
Round Dump: One user supplied me with 8000+ rounds at the outset of my data collection. They were unsure how they actually accumulated that many. Since I can't be confident in the validity of that data, I've excluded them from my analysis for the time being.
Sheet Layout:
Crit Rates: Analysis of each critical roll for that round type. Number of potential rolls, number of observed crits, and a Binomial analysis of how likely the observed result is given the expected crit rate
Percentile: The distribution of the "strength" of all rolls. The gauntlet appears to use a uniform distribution, so I would expect to see a similar number of rolls across all percentiles.
Win Expectations: This uses the expected % displayed by the iampicard tool and charts it against observed wins/losses.
Analysis
Now for the most controversial thing I think I'll say here: based on current data collected, I don't think there is any thumbs on the scale in terms of gauntlet matchup operations.
All screenshots below are for the "General Analysis", but specific numbers of all the various analyses are available on the spreadsheet. Numbers may vary slightly if you look at this spreadsheet later as I am continuing to add more rounds as I go.
Crits
The most "suspect" number you'll see is in the 25% crit range. On the overall analysis, players are running in <10 percentile for 25% crits and opponents are running around 25%. To be clear, the OBSERVED crit rates are 23.65% for players at 24.21% for opponents. The percentiles expressed above are their binomial likelihood of being observed. This difference is also more pronounced if you isolate the analysis to "Reward Rounds", where players are at 22.29% observed crit rate (9.26% binomial performance) against 26.72% for opponents (80.16% binomial performance).
Roll Percentile
The percentile analysis looks a little "chunky", but the overall averages fall right where I'd expect. So far, I've attributed the chunky-ness to characters with narrower roll windows (which could have a disproportionate number of rolls allocated to different percentiles). I've eliminated rolls with min-max spreads of less than 100, but that didn't solve all of it. However, I am satisfied with the overall distribution.
Expected vs Observed Wins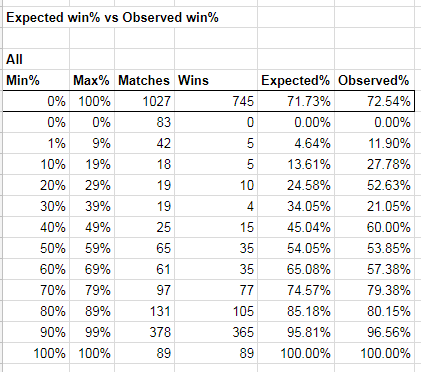 The expected win analysis is sort of where the rubber meets the road. The Expected Win% is entirely calculated by the iampicard tool. I will admit, I did not research the details on how this number is constructed. Suffice to say, it is independent of anything Disruptor Beam is doing on their side. If there are any biases elsewhere (like players having lower crit rates in certain situations) they would necessarily have to manifest as additional losses on the player side.
Across all rounds, the average expected win rate was 71.73% and the observed rate was 72.54%. In reward rounds, players tended to get a little more conservative and go for more likely wins. The expected rate was 78.83% and observed rate was 79.34%. Given how close all of these values are, I am unable to show any evidence of malfeasance.