Home
›
The Bridge
Wait a Minuet!..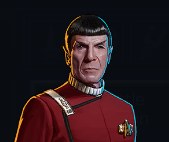 Jim Steele
✭✭✭✭✭
Minuet (New) 5*
Fully Fused Fully Equipped Level 100 Skills: CMD 911 (162-353), DIP 952 (292-766)
FE 1/5 level 100 CMD 463 (162-353), DIP 562 (292-766)
Traits: Hologram, Saboteur, Communicator, Resourceful, Human, Romantic, Desperate, Crafty
Before the Pitchforks come out on a rather underwhelming recurring mega character, consider this, She is Free!!
She places 4th in my roster for DIP behind Arichniana Janeway, Cornwell, and Victorian Pulowski
She places 8th in command.
Personally I prefer the slightly weaker stats, as it doesn't devalue the rest of my crew which I have spent time and money acquiring.
Casing point is Rufio, he didn't cost me anything and he is my top ENG above a FF Aviator Yar, FF Leanardo Davinchi, 4/5 Borg Laforge, 4/5 Degra, and a FF Honey Bare all of which cost me money to get through packs. Personally, I prefer them not devaluing my crew by giving out a free character to everyone thereby killing my competitive advantage.
Remember folks, she is FREE and at 4th in my DIP roster when maxed, ill gladly take her though I am in no rush to FF her.
DB: Do Better