Home
›
The Bridge
New Campaigns.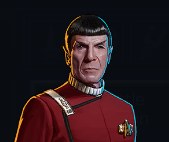 Jim Steele
✭✭✭✭✭
Who would you like to see as the Purple and Gold crew? What kind of theme would you like to see? How would you mix it up to keep if fresh?

How about 'First Contact'
SR card - Tommy Gun Dixon?
Gold 1 - Pheonix Cochrane
Gold 2 - Drunk Troi
Gold 3 - Ent. E. Picard
Gold 4 - Tempted Data
'Special Rewards' in addition/along the way - Enterprise E and Borg Sphere Schematics

Another Suggestion
Burnhamology
SR - Tactical Burnham, Gold - EV Suit Burnham/1st Office Burnham

Janewayology
SR Coffee Cup Janeway (we need 4 copies to make lizard Janeway)
Gold - Klingon Janeway/Assimilated Janeway

Rikerfest
SR -Anbo-jyutsu Riker
Gold - Chef Riker / AoS Riker

What are your thoughts / suggestions to keep the campaigns fresh so they don't become the new voyages?
DB: Do Better