Home
›
The Bridge
Bashir Birthday behold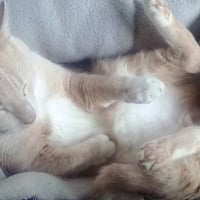 W.W. Carlisle
✭✭✭✭✭
Is everyone seeing this? I didn't see an announcement. If you are seeing it, are you seeing the characters or just the logo background like I am?
Edit: There is an announcement on Facebook now, but this was up at noon yesterday.
W.W. Carlisle
Played since January 20, 2019
Captain Level- 82 (March 9, 2021)
VIP 14
Crew Quarters: 429/430
Most recent/Lowest- Mirror Beverly Crusher (1/5* Lvl 40) 3/12/21
Immortalized x-393 5* x29, 4* x193, 3* x89, 2* x55, and 1* x27,
Most recent Immortal - Smuggler Kasidy Yates 4* 2/11/21- 55th of the year and 47th purple
Current non-event project- Improving my Medical skill, core and proficiency, and freeing slots by immortalizing my FF MED crew and freezing the unhelpful- only 7 to go! Edith Keeler, Vic Fontaine, Mutated Paris, Grandmother Kes, Dr. Toby Russell, Anij, and Sybok. Engineering will be next.