Home
›
The Bridge
Rare skill trios and the crew to fill them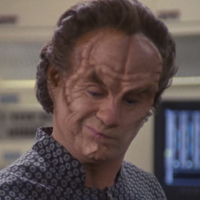 Veterinary Phlox
✭✭✭✭✭
There are some skill trios that have no representation among Legendary crew, or very few options. I thought it would be fun to put together a potential list of crew to fit these niches - and see who else folks could come up with!
Scientific Diplomat Crusher
6x22 Suspicions
SCI/MED/SEC
A medical doctor hosts a scientific examination of Dr. Reyga's metaphasic shielding. Solid beginning for a SCI/MED crew, and the investigation (and its conclusion) gives her some added SEC. Also my favorite Crusher episode!
Hunted Julian Bashir
2x13 Armageddon Game
MED/CMD or MED/SEC with ENG
Bashir dodges T'lani squads while O'Brien gets progressively worse from his exposure to the harvester bioweapon, demonstrating MED with CMD or SEC. An opportunity to flex his engineering extension courses gives him a dash of ENG.
Suspicious Julian Bashir
3x26 The Adversary
MED/ENG/SEC
Bashir aids in tracking down a changeling, and retaking the Defiant. Those extension courses come in useful again, and his biobed connection is good enough to get the Chief's approval, so I think it's worth bumping ENG up to secondary.
Picnic O'Brien
6x24 Time's Orphan
DIP/MED/ENG
Just as his friend dabbles in ENG, O'Brien has been known to dabble in MED, although more on the counseling side. There's probably no "torture O'Brien" episode that demonstrates this better than when his daughter falls through a time vortex and ends up spending 10 years alone on an uninhabited planet.
Besieged Ezri Dax
7x08 The Siege of AR-558
SEC/MED/ENG or MED/SEC/ENG
Ezri's defense of this Starfleet installation gives her plenty of opportunity to use her skills as a counselor and a soldier. Her work with Kellin to reveal the "Houdinis" gives her some added ENG.
Hirogen Medic
4x18/19 The Killing Game
CMD/SEC/MED
These skills could be put in a few different orders, all of which have no/few representatives in the game. Plus, not many Hirogen in the game!
Six degrees in Inter-species Veterinary Medicine. Treating all manner of critters, from Tribbles to Humans.