Home
›
Make It So!
Delphic Expanse collection, and the Xindi-Avian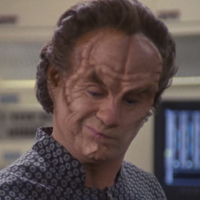 Veterinary Phlox
✭✭✭✭✭
A recent post about the "hat" in the Set Sail collection got me thinking, and the skull of the Xindi-Avian would make for an awesome avatar.
Although it only seems fair that it's added once the whole Council is complete. We're almost , and Tucker Smallwood's Xindi-Primate Councilor is part of the collection.
I know there's one (semi?) canon piece of concept art for Xindi-Avians, and I'd love to see one added as a STT Original. Maybe even give it a wonky skill setup that's been difficult to fill. But this seems like a bigger stretch and a bigger ask than a
giraffe
Xindi-Avian skull avatar.
Six degrees in Inter-species Veterinary Medicine. Treating all manner of critters, from Tribbles to Humans.
Starport