Home
›
The Bridge
Would you pay dilithium for alternate card art?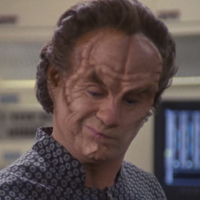 Veterinary Phlox
✭✭✭✭✭
I think it would be a cool option if some cards had alternate art to purchase.

Etana Jol is the character who first got me thinking about this. While her scene running around with Riker is certainly the more prominent, I think I'd like the card more if it depicted her in uniform instead. And it's not like we're likely to see a second Etana Jol.

It would also provide an option to spruce up older cards that would presumably pay for itself - art can be expensive.

Given how competitive the game can be, I could see a lot of people eschewing cosmetics, but personally I think it could have potential.
Six degrees in Inter-species Veterinary Medicine. Treating all manner of critters, from Tribbles to Humans.
Starport